Resumen
: first cold chain equipment co.,ltd product export American , the product type : SW300 the capacity :300kg/h frozen product: ice cream .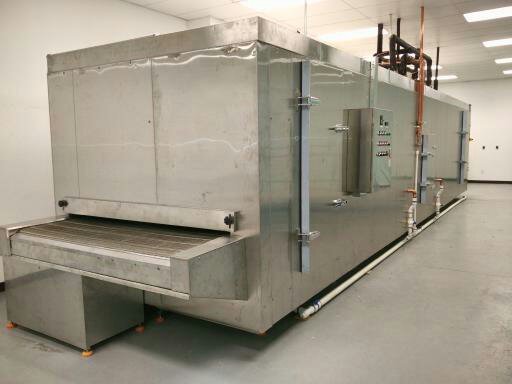 5. FST-SW300kg/h QUICK FREEZER TECHNICAL PARAMETERS

Technical parameters of quick-freezing machine box body parts

Frozen product

Fish

Capacity

kg/h

300kg/h

Consumption

(+40℃/-40℃)

kw

55

Refrigerant

R404A

Product Input Temp.

℃

+15

Product Output Temp.

℃

-18

Inside Freezer Temp.

℃

-35

Freezing Time

min

15—75

Empty Freezing Cooling Performance

min

≤60

Output Temp. Different

℃

≤2

Working Capacity

kw

6.75

Material

 

Food Grade SUS304

Size of Freezer (L*W*H)

mm

11200*2300*2400

Electric Cabinet

SUS Electric Control Cabinet,

Schneider Electric Device
Building Structure

Insulation Board Outside Stainless Steel Thickness

mm

0.8

Rest Insulation Board Stainless Steel Thickness

mm

0.5

Self-extinguishing Flame Retardant Polyurethane Thickness

mm

150

Outside Surface Condensation Condition

≤20℃

Air Relative Humidity≤80%No Condensation

Base Plate Connection

 

Eccentric hook around the side of the top plate connection

Base plate Connection Sealing

 

Glass Glue 4 Layers

Plate Against the Sink

Wall-to-wall stainless steel welding

Bottom Chassis

Integral hot-dip zinc carbon steel chassis or stainless steel

Freezer Door

 

Polyurethane delta 150 mm, lateral 0.8 mm stainless steel plate, safe electrical heating, double aging resistance to oil sealing strip, internal can open the door, safety warning in accordance with GB2894.

Water Out

Drain water Chambers with plate welding, gas defrosting separated water and cleaning water discharge.
Transmission Mechanism

Columns, support

mm

SUS304 Stainless Steel Material

Guide Rail

mm

SUS304 Stainless steel sheet outside bit ultra-high molecular polyethylene shaped guide rail

Conveyor belt transverse momentum

mm

≤5

Outside on the guide rail plane is not parallel

mm

≤10/1000

Motor Protection Grade

IP

55

Reducer

The needle wheel cycloid speed reducer

Inter Effective Height

mm

100

Belt Width

mm

1800

Belt Speed Adjustable

 

Frequency control of motor speed

Emergency Fault Handling

 

Automatic/manual scram  

Input Length

mm

600

Output Length

mm

600
Evaporator

Evaporator Material

From large antirust aluminum finned tube group, the rest of the 304 stainless steel

Defrost way

 

Water defrosting

Evaporator qty

set

4

Defrost water pressure

kpa

3

Defrosting time interval

h

12 

fan motor

 

Y2 Type

Protection grade

IP

55

Fan blade material

 

Anti-rust aluminium alloy

Ram shell material

 

Food Grade SUS304 Steel
6. Compression units
Design basis and condition
1、 Design basis
(1)、《Design code 》GB50072-2010;
(2)、《Heating ventilation and air-conditioning planning design code 》GB50019-2003;
(3)、《Refrigeration design handbook》;
(4)、User requirement。
2、Design condition
(1)、Refrigerant:R404A;
(2)、Evaporating condensing temperature:-40/+35℃
1.Compressor unit operating parameter
| | | | | | |
| --- | --- | --- | --- | --- | --- |
| Operation condition | Compressor unit type | Refrigerating capacity | Electric power | Input power | 380V/50HZ |
| -40/+38℃ | HSN7471-75-40P | 57.3Kw | 55Kw | 50.9Kw | |
Choose helical-lobe compressor 1set:HSN7471-75-40P
2、evaporation condenser
Type:ZFLA-250 evaporation condenser.
3、Electrical control system :main electrical element are Schneider.
1、compressor unit technical parameters
Compressor unit name

unit

Screw compressor unit

Compressor unit type

PSHL-75

Compressor

1set

Bitzer HSN7471-75-40P

Compressor

Theory Displacement

m3/h

250m3/h 50HZ 302m3/h 60HZ

Energy Adjustable range

100%-75%-50%

Refrigerant

type

R404A

Design conditions

℃

-40℃/35℃

Refrigeration capacity

KW

57.3KW

Voltage and power

3N/50Hz/380V 55KW

Overall dimensions(L*W*H)

mm

1500×1250×1500

unit weight

kg

~850